Education Makeover Bundles
Transform your school to boost student engagement and enrollment.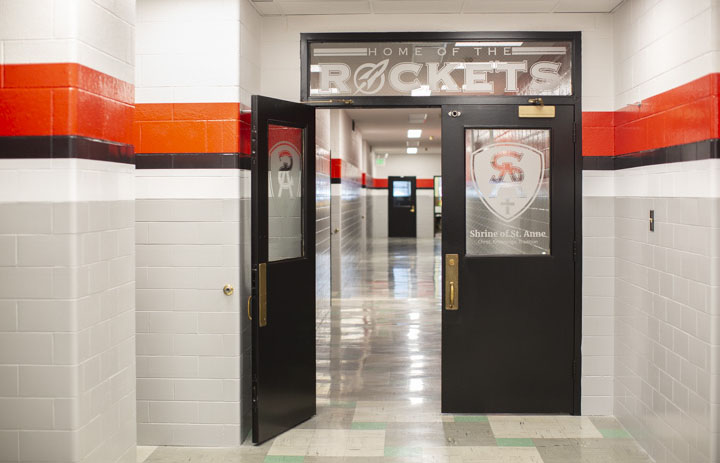 Schools pride themselves on providing high-quality academics, extracurriculars, athletics, community, and opportunities for students to learn and grow. However, it's also important to provide a comfortable and modern learning environment. When the appearance of your building does not match the quality of your curriculum, enrollment and school pride may suffer. AlphaGraphics can help with an education makeover bundle, designed to transform and modernize your space!

Partner with AlphaGraphics to Transform Your School
Every school has its own unique makeover needs because of variations in size, layout, and extracurricular facilities such as gyms and theaters. However, schools have one thing in common: the opportunity to impress prospective pupils and increase school pride among the existing student body. AlphaGraphics makeover pros have extensive experience working with schools to understand their needs and deliver the perfect makeover solution. Our education makeover bundles quickly connect you with the products that will make a difference at your campus.
Schedule Your Free Makeover Consultation
We have helped schools boldly brand, boost enrollment numbers, increase fundraising dollars, and modernize their facilities to create exciting environments to learn in. Schedule your free consultation today and discover the possibilities for your school makeover!
What's in an Education Bundle?
A makeover can give your school the boost it needs to wow students, faculty, and prospective families. Each of our bundles include the graphics that will make the biggest impact, while allowing room for customization to fit your budget and achieve your desired outcomes. Check out these options to find inspiration for your school makeover!
First Impressions Bundle

Make a positive first impression from the moment students walk in the door. Starting at $5,000, the First Impressions Bundle focuses on giving your lobby, entryway, or front office area a makeover that will wow prospective students and families.

Floor Graphics

Wall Graphics

Frosted Glass

Accent Wall Runner

Motivate to Greatness Bundle

The Motivate to Greatness Bundle is designed to help you set your students up for success. Starting at $15,000, this bundle encompasses your stairwells, corridors, and classrooms — all high-traffic areas where you should reinforce your school's colors, values, and key messages to keep students motivated.

Floor Graphics

Wall Mural

Wall Graphics

Banners

Frosted Glass

Accent Wall Runner

Stairwell Step Graphics

Pillar Wraps

School Spirit Bundle

In addition to academic excellence, your school has a lot to be proud of, from extracurriculars and clubs to sports teams, competitions, and performances. Starting at $15,000, the School Spirit Bundle celebrates every student's talents with a makeover of your school's gathering areas, such as gyms, auditoriums, or cafeterias.

Floor Graphics

Wall Mural

Wall Graphics

Banners

Championship Banners

Sponsor/Donor Banners

Sport Area Striping
How AlphaGraphics Transformed the Shrine of St. Anne School
Since its inception in 1961, generations of students have spent their formative years at the Shrine of St. Anne School. Known for its commitment to academics, athletics, community, tradition, and Christian values, St. Anne's is beloved by its pupils, alumni, faculty, and staff. But while just outside of its walls, the town grew, evolved, and thrived over the decades, within St. Anne's, little changed.
Enter AlphaGraphics! See how a building makeover helped create a fresh, modern environment to bolster school spirit, impress prospective students, and reinforce the values that are at the heart of the St. Anne's experience.
After their makeover brought the Shrine of St. Anne School's look from the 1960s into the present, enrollment applications increased and fundraising doubled! Read the full story of the St. Anne's school makeover.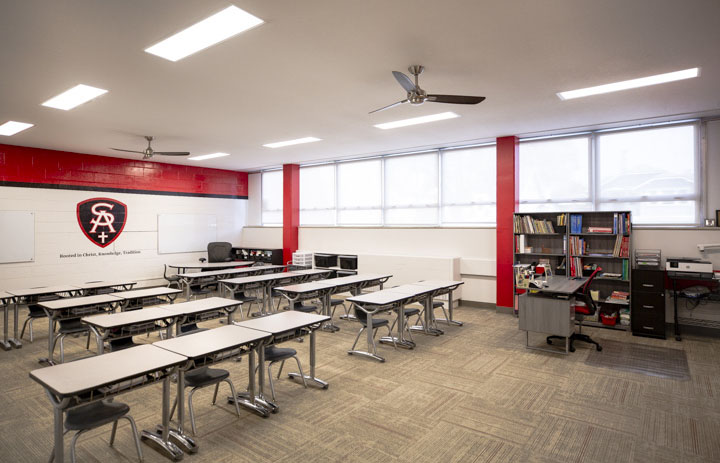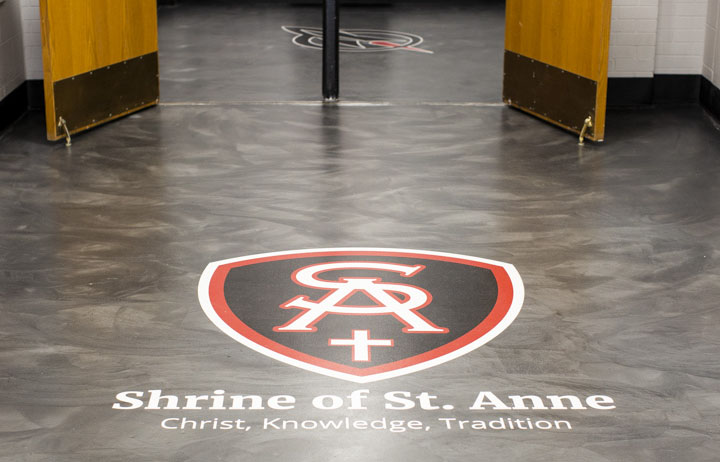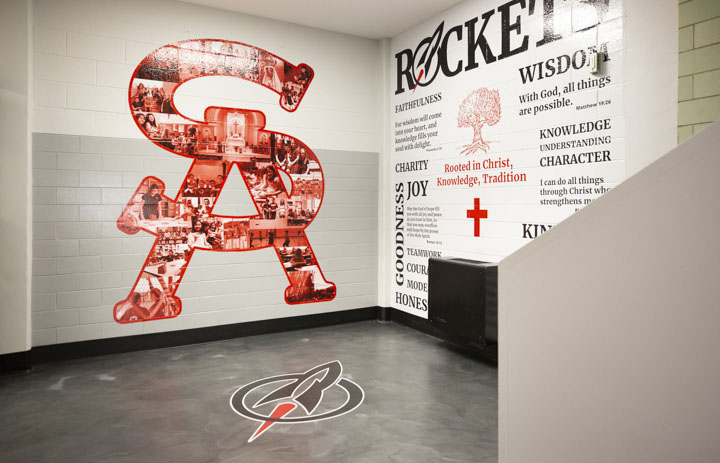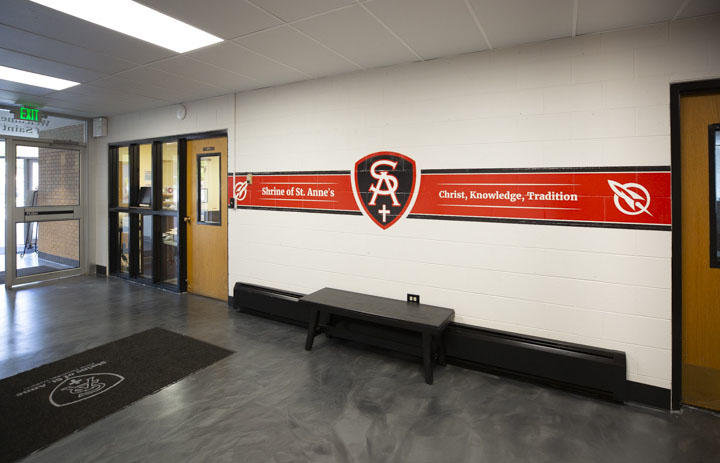 Why AlphaGraphics?



Let us help you get started