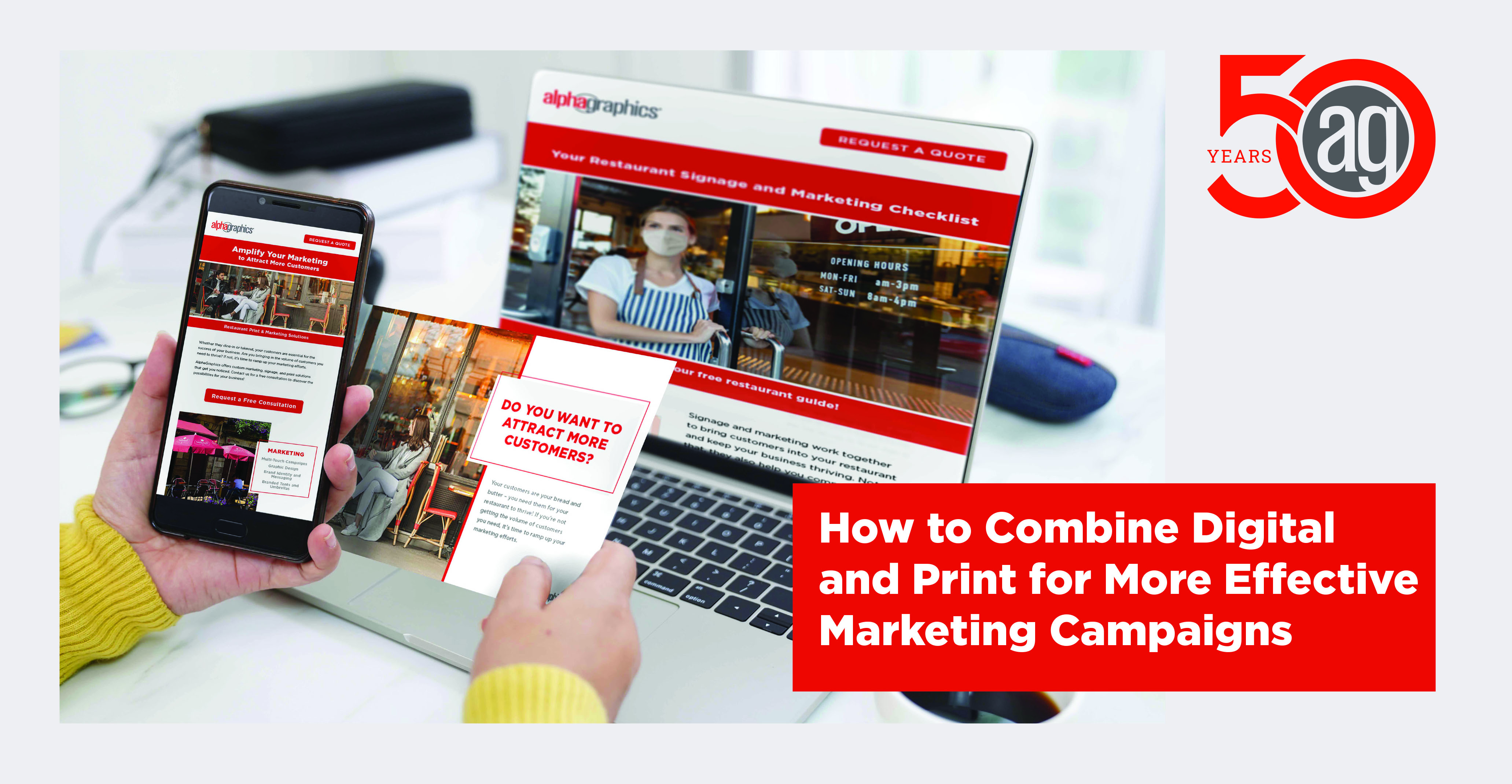 Print isn't dead.  While digital marketing may have become the "go to" medium for building brand awareness, print can still play a big role.  In fact, combining print with digital marketing can create more memorable experiences for consumers. Print can drive traffic to your digital channels, adding more touchpoints to the customer journey.  More touchpoints in varying formats can boost brand awareness and improve engagement.  Using tangible, printed items will reinforce your message and create a greater impact.
Combining Social Media and Print Marketing
Social media is a necessary component of digital marketing.  Through your social channels, you build relationships with customers.  Adding print marketing to the mix will bolster those efforts.  Printed collateral should include information about where customers can find you online and invite their engagement.  Including unique hashtags on printed collateral can further encourage participation. Print can benefit from social media by providing insight into the type of content customers respond to.  By paying attention to what gets traction online, you can tailor future printed collateral to communicate more effectively.
Combining Websites, Email and Print Marketing
Digital marketing is more than just social media.  It also includes your website and any email marketing you do.  Prospective customers often search out your website to learn more about your products and services.  Email marketing to your current customer base can help keep them informed of new offerings and is a cost-effective way to reach out to those who have opted-in to such communications. [caption id="attachment_169" align="alignright" width="150"]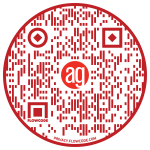 Scan to visit us on Instagram[/caption] Using print to drive traffic to your website can be as easy as adding a QR code to anything you print.  (Yes, people do still scan QR codes – in fact, with newer smartphones, no app is required).  Once on your website, landing pages can require visitors to enter email information to obtain a free download or discount.  Every email you gather builds your list for future email marketing.
Leveraging Digital and Print Technology
As new technologies develop, it becomes even easier to integrate print and digital marketing.  The interactivity between print and digital marketing allows you to customize marketing efforts. Personalization using variable data allows you to tailor text, graphics even marketing offers, to specific prospects and customers.  This extends to personalized landing pages, or PURLS, and to custom-printed pieces. [caption id="attachment_170" align="alignright" width="221"]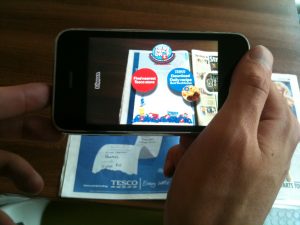 Click to learn more about AR[/caption] Augmented Reality, which blends the physical and digital worlds via a smartphone, can enhance the digital experience on any printed piece.  AR can also reveal hidden text, images, or graphics as well as create a 3-D images from a printed page.
Creating the Most Effective Blended Marketing Campaigns
The basic rules of marketing still apply when combining digital and print marketing.  Your content should be relevant to the audience you're marketing to.  Even the best campaigns will falter if the message doesn't hold value to the person who receives it. All marketing materials – offline and online – need to include a clear call-to-action (CTA).  Ask yourself what you're trying to accomplish with each touchpoint.  Are you trying to create awareness for your business?  Are you building trust?  Are you presenting a specific offer?  Next, determine what a prospect or customer would need to do to accomplish that desired outcome.  That's your CTA.  Whether you're asking a prospect for their contact info or urging a customer to redeem a limited time offer, be clear and concise. Remember the Rule of 7!  Generally, it takes multiple touches to move a customer through the buying process.  Combining digital and print marketing efforts creates those various, diverse touchpoints. [caption id="attachment_168" align="alignleft" width="150"]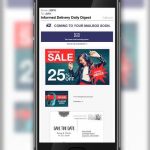 Learn more about Informed Delivery[/caption]
As more consumers opt into Informed Delivery by the USPS, those daily scans of mail can become yet another touchpoint in the customer journey.  This is another reason to include a clear CTA on the scanned side of any direct mail (the side with the mail recipient's info).
Track, Measure and Analyze
Tracking the success of any marketing campaign is extremely important.  Consider how you will calculate your return on investment (ROI).  QR codes and custom landing pages can help you measure how many consumers made the print-to-digital jump.  Unique discount codes on printed pieces can also help determine the level of response those pieces produced. Review your responses.  Which online postings generated the most comments, likes and shares?  Which printed pieces generated activity?  Try to identify what caused some efforts to bomb while others created excitement.  This type of analysis should dictate future marketing efforts – both online and in print.
Print and Digital are a Great Team
It takes both online and offline efforts to reach consumers now.  While digital efforts can provide immediate responses and reactions, print can create more memorable experiences.  Print can become a tangible extension of your digital marketing efforts.  By combining your digital campaigns with print in unique and engaging ways, you'll be able to amplify your marketing efforts to get noticed and get business.